EA released that a series of players be handed out to celebrate the sixth birthday, and FIFA 15 Ultimate Team fans will have chance to get Birthday Cup and some players this week.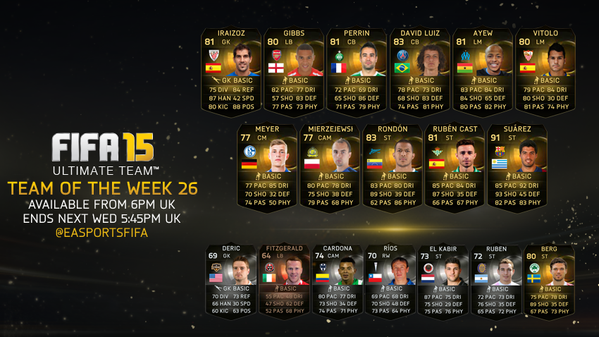 Until March 29 all fans will be able to get one free pack every single day as long as they log into the football sim, each of them an occasion to get access to the biggest stars of the sport.
A special Birthday Cup for FIFA 15 Ultimate Team is alt were included in previous Team of the Weeks.so introduced, with each gamer able to get a rare tradable in-form version of players tha
Gamers can get access to superstars like Cristiano Ronalso, two types of Lionel Messi, one upgraded and one not, Neuer, Philip Lahm and many more.
To quality gamers need to play at least one match of FIFA 15 Ultimate Team during the week and the official store is also introducing new player packs every day, with EA Sports set to give out more details about them on social media.
Ultimate Team is the most important long-term attraction of the series at the moment. Ultimate Team was largely ignored by the public when it was first introduced because it seemed like just another way to attract attention to the already well developed multiplayer element of the FIFA experience.
Six years later the mode has become one of the main reasons why a lot of fans are picking up the EA Sports football simulator and vast sums are spent in order to secure access to the best players and to create a competitive team.
Recently the developers have introduced an entirely new Price Range concept, placing upper and lower limits for all players, with the long-term expectation that they will make the playing field more level for all those involved.
Recently FIFA 15 also received a fourth major title update, mostly concerned with stability, and EA Sports is at the moment also working on the version of the title that is supposed to be launched later in 2015.
There are no further details have been provided, maybe you can find it out in late September.